Meet
Your U.S. Soybean Farmers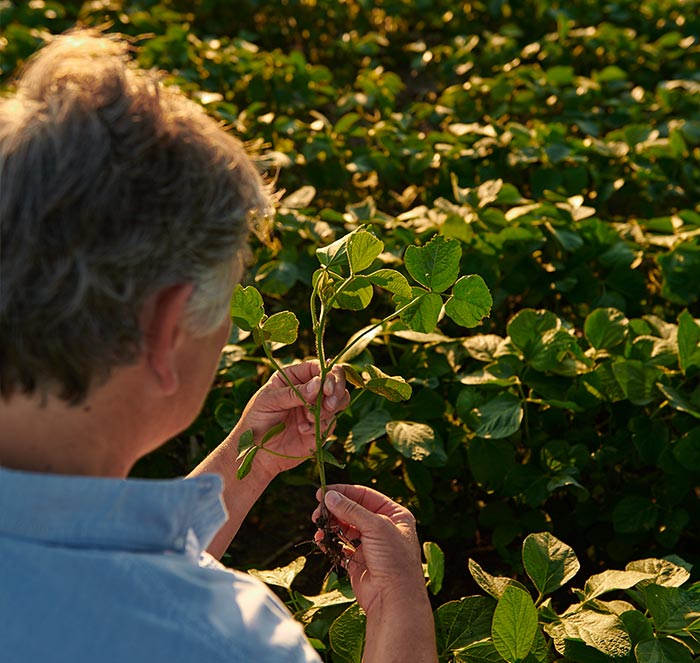 In the U.S., 97% of farms are family owned. U.S. soybean farms are thriving and will continue to keep up with industry demand for U.S. grown soy solutions, including high oleic soybean oil, soy shortening and soy protein.
U.S. SOYBEAN FARMERS
Navigate the U.S. soybean farmers map below to view state-by-state soybean statistics, meet U.S. soybean farmers and see where conventional and high oleic soybeans are grown.
ask a soybean farmer
Ask a U.S. soybean farmer a question and check back for new responses.
Q:
Why is it important to support U.S. agriculture?
We take pride in being part of the world's safest, reliable, abundant, and affordable food system around the world.Supporting U.S. agriculture is a very important part of our future if we plan to feed our growing population. Norman Borlaug once said, "A nation that has food has many problems, but a nation that cannot feed itself has only one problem."
Q:
As a soybean farmer, what does "sustainability" mean to you?
Sustainability is giving credit to the conservation practices that U.S.farmers implement every day. The land and the environment are our greatest asset, which makes it top priority on my farm to enable future generations to continue to provide safe, reliable food.
Q:
I've heard most farms in the U.S. are owned by big corporations, is this true?
Nearly 97 percent of all farms are owned by families. My own farm is a large corporate farm in the sense that it is owned by my large family – my 10 brothers and sisters, a niece and nephew and me. We are incorporated for income tax purposes. I farm the land with my brother Mike, my sons Seth and Jesse, and a few other employees.
Q:
What sustainability practices do you employ on your farm?
We employ every practice that fits the soil, topography, and weather. Some tactics include crop rotation, no-till farming, manure tests, using fuel efficient equipment and offsetting power usage with self-owned renewable energy systems. These aren't just sustainable, they're successful and cost efficient.
Q:
How do you ensure that your farm keeps up with the growing demand for food as our population increases?
With constantly rising demand, biotechnology has become an integral tool for farmers of any crop. I also emphasize the maintenance of my soil to ensure a healthy and bountiful harvest. My hope is that the farm stays in my family for generations, bringing sustainably raised crops to the world for years!
Q:
What do farmers do with all of the soybeans once they are harvested?
My beans go to one of three places. My commodity beans are sold to chicken farms for feed. My high oleic beans are turned into high-quality, long-lasting cooking oil. Finally, my specialty, high-protein beans are made into tofu.
Q:
What's your favorite part of working in agriculture?
I love working in agriculture because it is more than a job; it's my life, legacy and passion. I love to see the fruits of my labor growing in the field every year. I'm fortunate to be doing the same thing that my family has been doing for 70 years, and something that I can leave to my kids to carry on in the future. In addition, I enjoy that my role is very diverse: agriculture involves everything from computer GPS, to diesel mechanics, to accounting, to plant biology.
Q:
How does sourcing U.S. grown ingredients benefit food companies?
The quality and quantity of U.S. grown crops ensures that food companies are guaranteed a consistent and nutritious supply. Additionally, sourcing domestic ingredients supports U.S. job growth!
Q:
Are you using any new technology on your farm? If so, what and why?
We've recently begun using GPS technology. GPS eliminates the overlap of fertilizers and crop protectants, reducing waste. It also allows us to only use fertilizer on the plots that need it.
Q:
What type of soybeans do you grow? Why?
We grow high oleic and commodity soybeans. The diversity meets consumer demand and provides renewable raw material for several different products. Soybeans are one of the most versatile and resilient plants!
Q:
In the ever-changing landscape of sustainability and agriculture, how do you see your farming practices evolving over time?
In the digital era, we are able to generate mountains of data on efficient and sustainable growing practices. On my farm, we are working tirelessly to analyze the data and implement our findings. This approach has led to enhanced yields, elevated levels of sustainability, reduced cost per unit and higher profits.