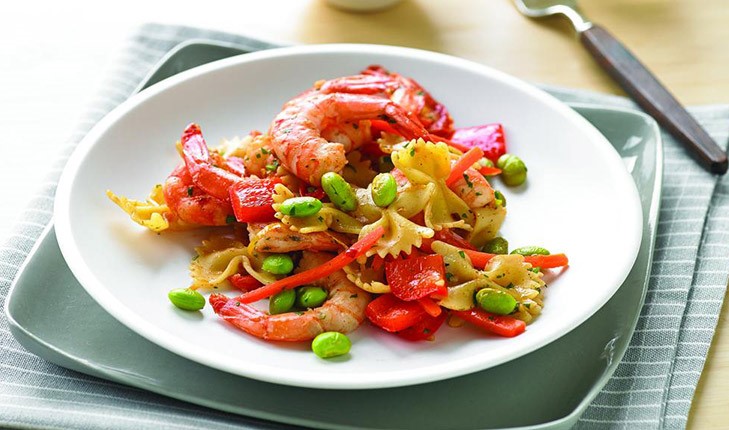 Prep Time:

15 min

Cook Time:

15 min

Total Time:

30 miin

Makes:

6 servings
Easy Shrimp and Veggie Pasta Fresca
Ingredients
3 tablespoons Soybean oil (commonly labeled vegetable oil)

3 cloves Garlic, chopped

1 pound Shrimp, peeled and deveined (30 to 35 shrimp per lb.)

1⁄2 teaspoon Red pepper flakes

1 Lemon, juiced and zested

8 ounces Farfalle or bow tie pasta (Cooked according to package directions)

1 cup Cherry tomatoes, halved

3⁄4 cups Edamame (shelled), thawed

1 Carrot, cut into matchstick-sized pieces

1 Red bell pepper, cut into 1-inch squares

1⁄4 teaspoon Sea salt

1⁄4 teaspoon Fresh black pepper

1 tablespoon Italian parsley, chopped

2 tablespoons Parmesan cheese, shredded
Instructions for Easy Shrimp and Veggie Pasta Fresca
Heat soybean oil in large skillet over medium high heat. Add garlic and cook for 2 minutes, stirring occasionally.
Add shrimp, lemon juice and red pepper flakes. Cook for 2 to 3 minutes, stirring frequently, until shrimp is pink and cooked through to an internal temperature of 145°.
Add carrots, edamame, bell peppers and tomatoes. Cook, stirring frequently, until the carrots are tender. Add pasta, salt, pepper, cheese, parsley and lemon zest. Cook, tossing gently, until thoroughly heated. Top with Parmesan cheese, if desired.