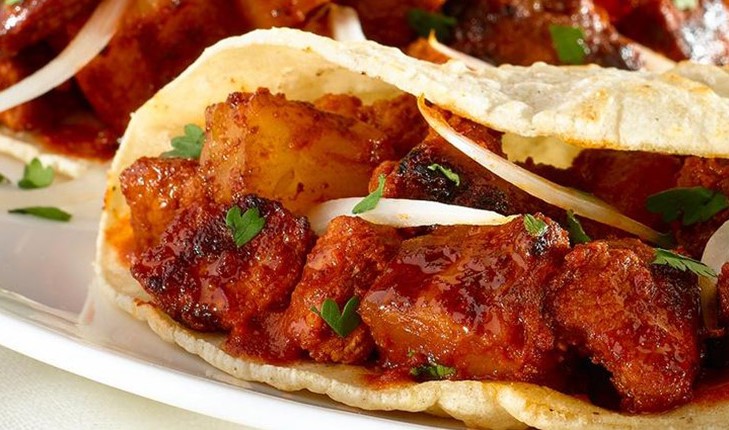 Prep Time:

45 min

Cook Time:

15 min

Total Time:

1 hour

Makes:

6 servings
Home-Style Tacos al Pastor
Ingredients
5 GOYA® Guajillo Chilles

5 GOYA® Pasilla Chiles or GOYA® Ancho Chiles

1 GOYA® Chipotle Chile in Adobo Sauce (use one chipotle chile from 7 oz. can)

1 Medium white onion, halved

1 can GOYA® Pineapple Chunks (20 oz.)

1⁄4 cup GOYA® Distilled White Vinegar

2 tablespoons GOYA® Minced Garlic

1 teaspoon GOYA® Cumin

tst GOYA® Adobo All-Purpose Seasoning with Pepper

1 Boneless, skinless pork butt, 2½-3 lb (cut into ½" cubes)

2 tablespoons GOYA® Vegetable Oil

1 package GOYA® Corn Tortillas, warmed (10 oz.)

2 tablespoons Fresh cilantro, chopped

1 Lime, wedged
Instructions for Home-Style Tacos al Pastor
Bring 2 cups water to boil in medium saucepan over medium-high heat. Add guajillo and pasilla chiles.
Reduce heat to medium low and simmer until chiles soften, about 10 minutes; transfer to plate. Remove and discard stem and seeds.
Meanwhile, coarsely chop one onion half; reserve remaining half. Strain pineapples; reserve juice and fruit separately.
Transfer guajillo, pasilla and chipotle chiles, chopped onion half, reserved pineapple juice, vinegar, garlic and cumin to bowl of food processor. Puree until smooth, about 2 minutes.
Transfer chile mixture to saucepan over medium-high heat. Bring chile mixture to a boil; cook until paste looses raw onion taste, about 2 minutes. Season with Adobo; cool.
In large container with lid, or in large ziptop bag, combine pork cubes, cooled chile marinade and reserved pineapple chunks; transfer to refrigerator. Marinate at least 2 hours, or up to 24 hours.
Heat oil in large skillet over medium-high heat. Strain pork and pineapples, discarding marinade. Add pork and pineapples to skillet.
Cook in batches until dark golden brown on all sides and cooked through, about 15 minutes; transfer to large serving plate.
Meanwhile, finely slice remaining onion half. Transfer sliced onion to bowl with cilantro.
Serve pork and pineapple mixture in warm tortillas. Garnish pork tacos with cilantro, onions and limes.
Notes:
Tacos al Pastor are a favorite in Mexico and Mexican restaurants throughout the world for good reason: The mixture of smoky, spicy chiles, sweet pineapples and fresh onions and cilantro is taco perfection. Traditionally, Tacos al Pastor are made by marinating pork in chile sauce, layering the meat on a vertical rotisserie, adorning with a pineapple and roasting slowly for hours a process that's almost impossible to replicate at home. So we've taken the delicious, authentic flavors that make these tacos so special, and adapted the recipe for your home kitchen, so you can enjoy whenever a craving strikes!