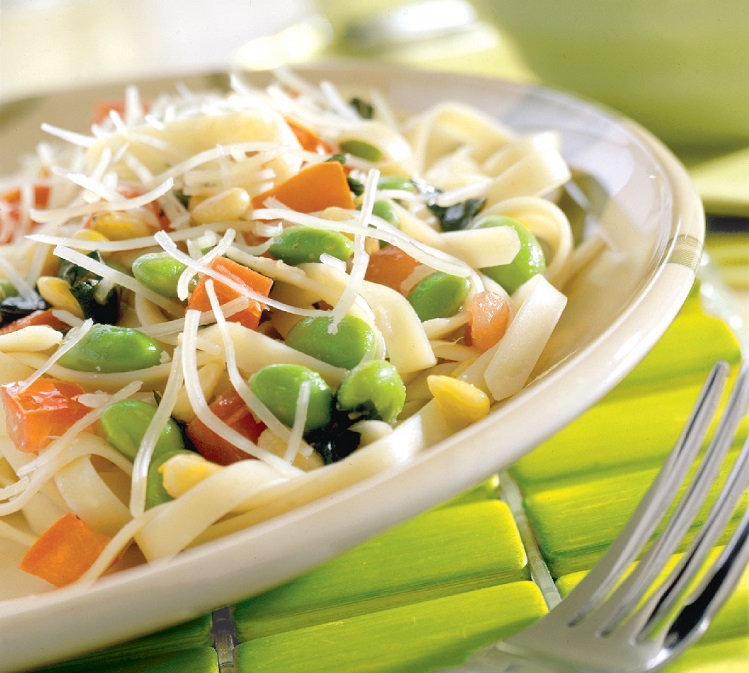 Prep Time:

15 min

Cook Time:

35 min

Total Time:

50 min

Makes:

50 servings
Linguini with Roasted Garlic-Wine Sauce
Ingredients
6 1⁄4 pounds Linguini, dry

12 ounces Soybean oil

1 1⁄2 pound Roasted Garlic Paste

12 ounces Shallots, minced

3 pounds Dry White Wine

3 pounds Chicken or Vegetable Broth

9 3⁄8 pounds Tomatoes, seeded, diced

4 pounds Edamame

2 pounds Pine Nuts, toasted

4 ounces Basil, fresh, chopped

1 tablespoon Salt

2 teaspoons Black Pepper

10 ounces Parmesan cheese, grated
Instructions for Linguini with Roasted Garlic-Wine Sauce
Prepare linguini as directed on package. Drain and set aside.
Heat oil in large skillet. Sauté oil, garlic paste and shallots until shallots are translucent, stirring occasionally.
Add wine and chicken broth. Simmer until reduced in half.
Add tomatoes and edamame. Cook until heated through.
Stir-in pine nuts, basil, salt and pepper. SPOON over cooked linguini.
Sprinkle with Parmesan.
*To make roasted garlic paste, cut pointed top off 12 unpeeled garlic heads (2 lb 5 oz) leaving cloves intact. Place garlic heads on aluminum foil and drizzle with 4 oz vegetable oil. Seal foil around garlic and bake at 400°F 30 to 40 minutes until cloves are soft. Cool, squeeze paste from cloves and mash.
**Original recipe makes 50 cups pasta, 38 cups sauce