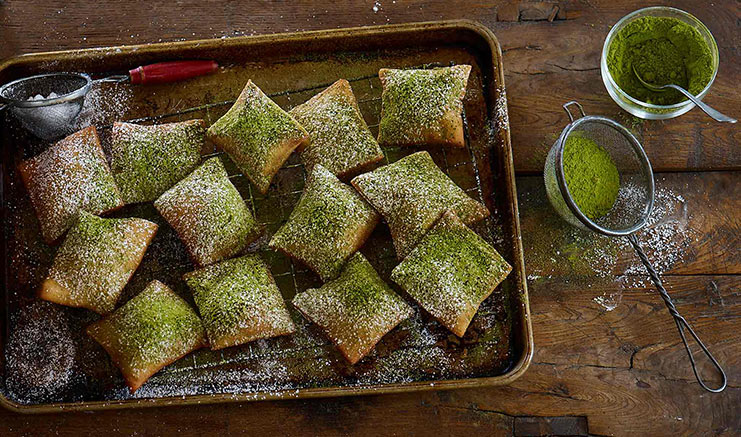 Prep Time:

30 minutes

Cook Time:

15 minutes

Total Time:

3 hours 30 minutes

Makes:

8 to 10
Matcha Green Tea Beignets
Ingredients
1 ½ cups warm water (about 110°F)

1 packet (7 grams, ¼ ounce) active dry yeast

1 cup sugar

7 cups pastry flour, plus ½ cup for rolling

1/3 cup high oleic soybean shortening

2 eggs, large or extra-large

2 teaspoons kosher salt

6 cups soybean oil (commonly labelled as vegetable oil)

1 cup powdered sugar

2 tablespoons matcha green tea powder
Instructions for Matcha Green Tea Beignets
Whisk the warm water, yeast and sugar in a small bowl until combined. Let the mixture sit until it gets foamy, about 10 minutes.
Pour and scrape into the bowl of a stand mixer. Add the pastry flour, high oleic soybean shortening, eggs and salt. Mix on low, using the paddle attachment, until the mixture comes together and pulls away from the sides of the bowl, about 5 minutes.
Coat your palms with a splash of soybean oil and pull the dough out of the bowl; form into a ball. Place the ball in a clean bowl and cover with plastic wrap. Let the dough rise at room temperature for 3 hours.
Dust a clean work surface with the remaining ½ cup flour. Gently ease the risen dough from the bowl onto the floured surface, being careful not to deflate it. Gently roll the dough into a long rectangle that's about 1/8-inch thick. Cut into 3-inch squares, you should get 8 to 10 beignets. Don't worry about being precise. It's okay if they look rustic.
Heat the soybean oil in a deep cast iron skillet or Dutch oven to 350°F over medium heat. Carefully lower 3 or 4 beignets into the hot oil, using a slotted spoon. Fry until puffed and golden brown, about 3 minutes, turning them once or twice to ensure even browning.
Remove with the slotted spoon and drain on several layers of paper towels. Repeat with the rest of the dough.
When ready to serve sift powdered sugar over the top and sprinkle the matcha powder over that. Enjoy!