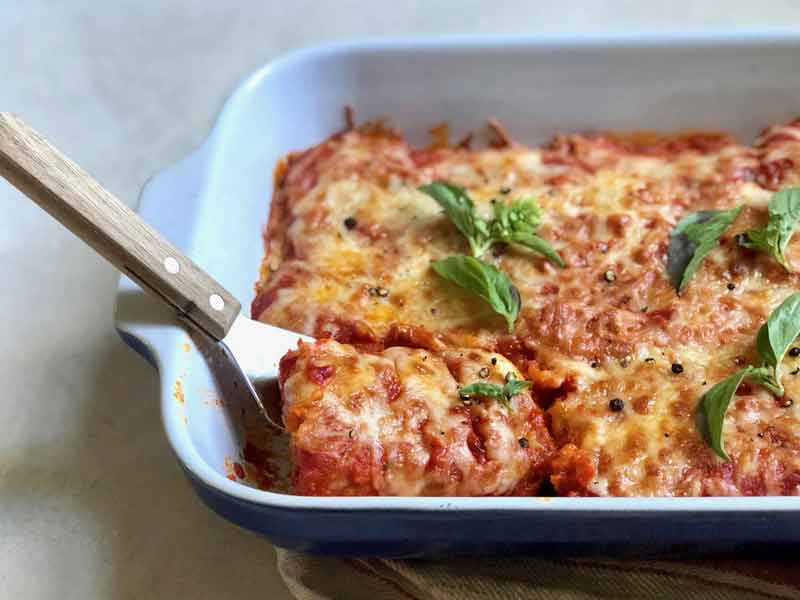 Prep Time:

45 min

Cook Time:

20 min

Total Time:

1 hr 5 min

Makes:

4
Oven-Baked Tofu Parmesan
Ingredients
14 ounces extra-firm tofu, drained

3/4 cup panko-style breadcrumbs (gluten-free, if desired)

¼ cup finely grated Parmesan cheese

1 ½ teaspoons Italian seasoning

1 teaspoon garlic powder

1 egg

1 ¾ cups marinara sauce (homemade or bottled)

1 cup lightly packed shredded Mozzarella cheese
Instructions for Oven-Baked Tofu Parmesan
Preheat oven to 425F.

Lay a dish towel or several paper towels on your work surface. Cut the tofu into 8 slabs that are about ½-inch thick (like small playing cards). Lay the tofu on the towel and cover with another towel to absorb the moisture.

Use a fork to stir together the panko, Parmesan, Italian seasoning, and garlic powder on a medium plate or shallow dish.

Crack the egg into a medium bowl and whisk well.

Dunk a tofu slab into the egg mixture and coat generously on all sides with the panko. Lay on a large baking sheet. Repeat with the remaining tofu. Bake until crispy and beginning to brown, particularly along the bottom, 30 minutes.

Spread ⅓ cup marinara sauce along the bottom of a baking pan large enough to accommodate the tofu in one layer (7- by 11-inches or thereabouts). Nestle the tofu in the pan. Pour the remaining marinara sauce over the tofu and smooth with a spoon. Scatter the Mozzarella on top.

Bake until the cheese melts and begins to brown, 20 minutes.

Cut into squares and serve warm.

Makes 4 servings.
Notes:
Crispy oven-baked tofu Parmesan gets smothered in marinara sauce, topped with Mozzarella, and baked until bubbling. It's a guaranteed kid-pleaser that's easy enough for a weeknight supper. For a simple side dish, toss broccoli florets with a splash of oil, spread on a baking sheet, and roast alongside the main dish. Finish with a pinch of salt and squeeze of lemon juice.