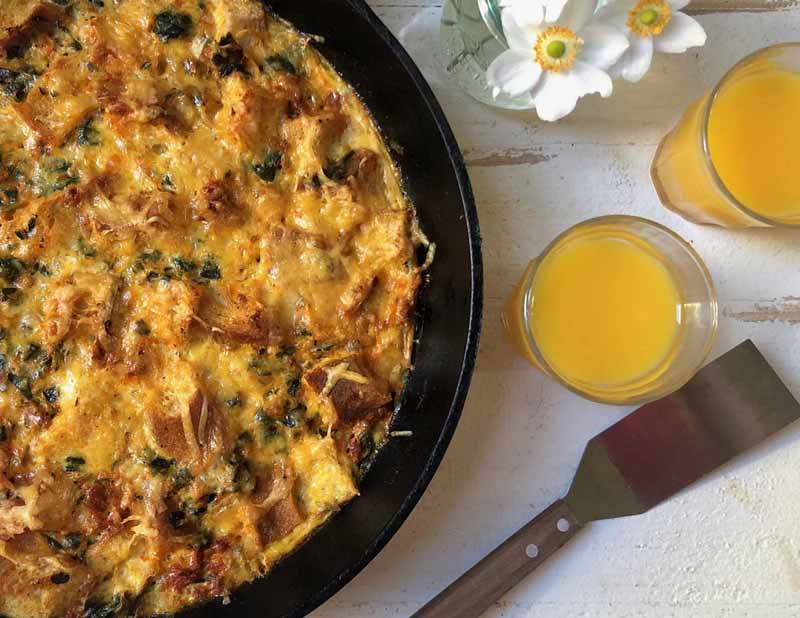 Prep Time:

15 min

Cook Time:

30 min

Total Time:

45 min

Makes:

6 to 8
Overnight Egg Casserole with Soy Chorizo Crumbles
Ingredients
1 tablespoon soybean oil

1 medium yellow onion, chopped

8-ounces frozen chopped spinach, defrosted

1 ½ cups soy chorizo (or soy sausage crumbles)

2 cups cubed (½-inch) crusty bread, such as baguette or Italian bread

7 large eggs

1 ½ cups plain soy milk (not sweetened)

½ teaspoon kosher salt Freshly ground black pepper

¾ cup grated, lightly packed sharp Cheddar cheese
Instructions for Overnight Egg Casserole with Soy Chorizo Crumbles
Heat oil over medium-high in a 10-inch cast iron or non-stick, oven-proof skillet. Add the onion and sauté until tender, 6 minutes. Meanwhile use your hands to squeeze the liquid from the spinach.

When the onion is tender, add the spinach and soy chorizo and sauté until the liquid evaporates from the spinach, a few minutes more. Add the bread and stir.
In a large bowl, whisk the eggs, milk, salt, and a light shower of black pepper. Pour into the skillet to cover the other ingredients.

Cover the pan with foil and refrigerate overnight (or bake immediately as directed below).
In the morning, preheat oven to 350 degrees F. Remove the foil and scatter the cheese over the eggs. Bake until the eggs are just set with no obvious raw egg, 30 minutes.

Cut into wedges and serve warm.

Makes 6 to 8 servings.
Notes:
Whether you've got guests coming for brunch or just want to get a jump on weekday breakfast, make this the night before to stow in the fridge and bake in the morning. Alternatively, feel free to assemble and cook it all at once if the mood strikes. Cut it into wedges and serve with a side of sliced avocado.