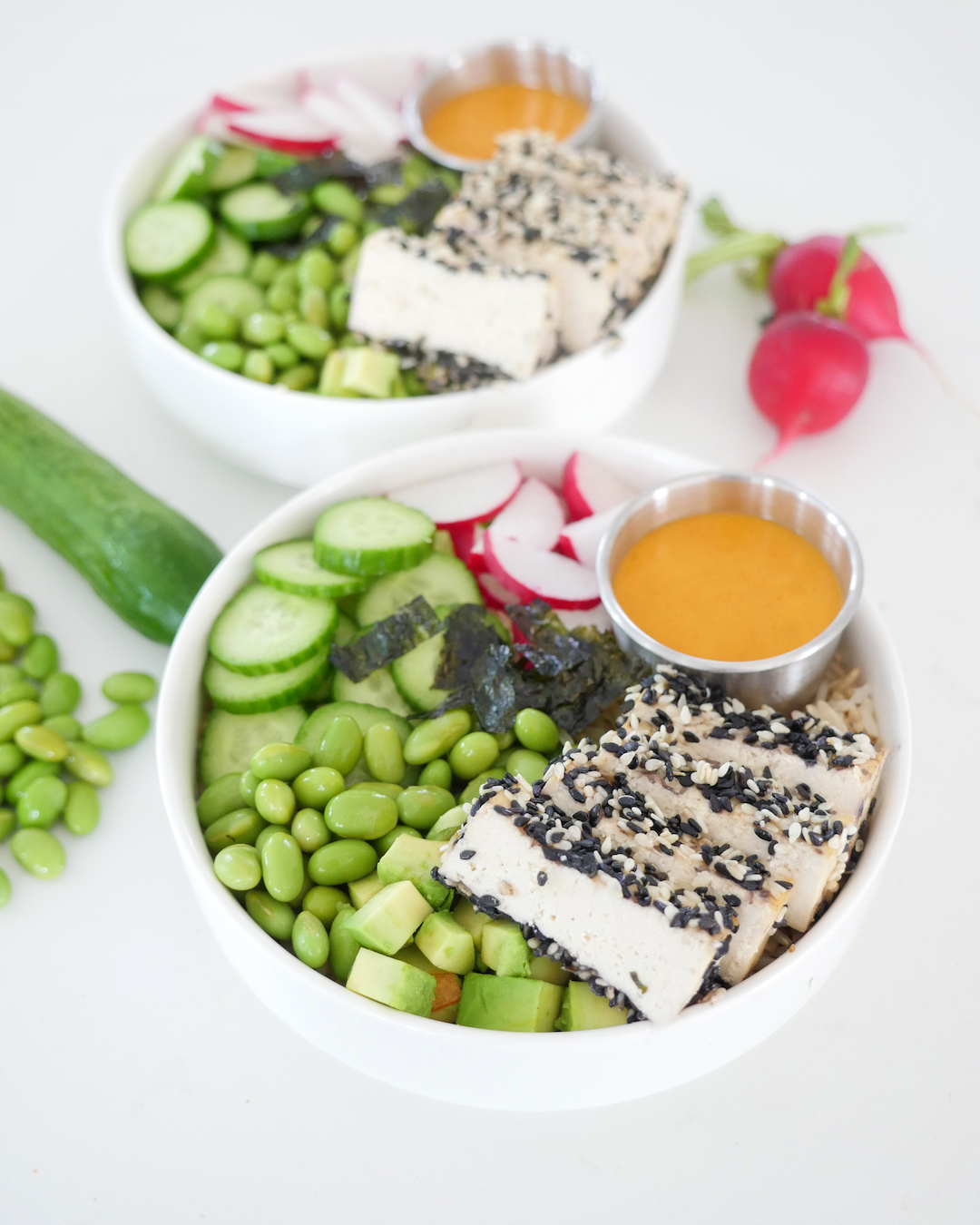 Prep Time:

15 min

Cook Time:

30 min

Total Time:

45 min

Makes:

4 servings
Sesame-Crusted Tofu Poke Bowl
Ingredients
Recipe by Mia Syn, MS, RDN (@nutritionbymia)
12 oz. extra firm tofu, drained, pressed and cut into strips

2 cups brown rice, cooked

1 cup edamame, shelled

½ cup cucumber, thinly sliced

½ cup radish, thinly sliced

¼ cup seaweed flakes

½ avocado, diced

Tofu marinade:

2 tbsp soy sauce

1 tbsp soybean (vegetable) oil

1 tbsp natural rice vinegar

1 tsp maple syrup

1 tsp ginger

1 egg

3 tbsp black sesame seeds

3 tbsp white sesame seeds

Spicy mayo:

¼ cup mayonnaise


2 tsp sriracha
Instructions for Sesame-Crusted Tofu Poke Bowl
1. Cook brown rice according to package instructions and set aside.

2. Preheat oven to 350 F and line a large baking sheet with parchment paper.

3. In a small bowl, whisk together tofu marinade ingredients: soy sauce, soybean oil, natural rice vinegar, maple syrup and ginger.

4. Place tofu in a shallow dish and pour marinade on top. Marinate for 20 minutes.

5. Whisk egg in a shallow bowl and set aside.

6. Combine sesame seeds in another shallow bowl and set aside.

7. Remove tofu pieces one by one from marinade and dip into egg followed by sesame seeds mixture. Place on the baking sheet and bake for 15 minutes, flip and bake for another 15 minutes.

8. Whisk together spicy mayo ingredients and set aside.

9. Assemble bowl ingredients and plate with tofu at the end. Serve with spicy mayo.