As health professionals, you are accustomed to reading clinical nutrition research and translating those findings into food or nutrition-related recommendations, action steps, and goals for your clients, patients, and others you advise. However, the question that remains is whether your recommendations resonate in a meaningful way with your clients. Consumer research helps provide answers to this question.
The United Soybean Board (USB) conducts annual surveys to measure consumer perceptions about soyfoods, health, nutrition, U.S. farmers, and sustainability. These studies include robust samplings of 1,000–1,500 U.S. general population consumers.
Below are key highlights from the most recent survey, and suggested methods for incorporating these findings into your clinical practice.
Method #1: Recommend soyfoods to your clients with confidence knowing that most people already consider soy healthy or may simply need minimal education to accept this is the case.
60% of consumers consider soyfoods like edamame, tofu, and soymilk made from soybeans to be "healthy."
26% have a "neutral" perception of soy, 7% say they "don't know" enough about soy to have an opinion. Only 7% of consumers think soy is "unhealthy."
Men (63%) have a slightly more positive view of soy than women (58%).1
Method #2: Educate your clients that soybean oil, commonly labeled "vegetable oil" in the grocery store, is typically made with 100% U.S. grown soybeans and supports the efforts of U.S. farmers.
79% of consumers have a positive view of U.S. farmers.
U.S. farmers rank as the most trusted members of the supply chain, as noted by 78% of respondents.
70% of consumers say it is important to purchase foods made with U.S. grown crops. 1
Method #3: Share information about the sustainable growing practices of U.S. soybean farmers to encourage your clients to eat soyfoods made from U.S. soybeans. The positive perception of soy and positive feelings about the sustainability efforts of U.S. soy farmers appear to go hand-in-hand.
Among consumers with a positive perception of soyfoods, 80% felt even more positively about soy after reading about U.S. soy farmers' sustainability practices. 1
Nearly 6 in 10 consumers say it is important that the food products they purchase or consume are produced in an environmentally sustainable way.2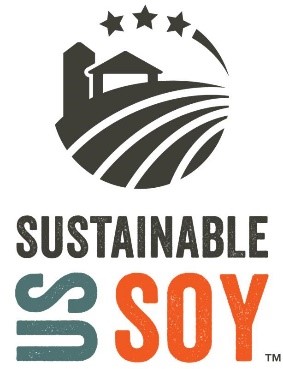 To respond to the growing interest in environmentally sustainable food production and processing, USB and U.S. Soy launched a Sustainable U.S. Soy program. The program allows qualifying soy-based foods to carry this mark assuring that the soy ingredients used originate from a system of continuous environmental improvement. More than half of consumers said they would be more likely to purchase food labeled with the Sustainable U.S. Soy label.1
Consumer trends demonstrate heightened demand for both nutritious and sustainable foods and ingredients, as well as growing interest in plant-based proteins. Soyfoods can deliver on all of these trends.
Reference
United Soybean Board. "Soy Omnibus Study." December 2020, Available at SoyConnection.com
International Food Information Council. "2020 Food & Health Survey." International Food Information Council, June 2020, foodinsight.org/wp-content/uploads/2020/06/IFIC-Food-and-Health-Survey-2020.pdf.