Soy Desserts Recipes
Can a sweet tooth and soy nutrition co-exist? These soy desserts recipes prove it. You'll taste that heart healthy soybean oil is the perfect frying oil for donuts or a delicious icing. Or that Tofu is a good source of protein to add to baked goods or a delectable cheesecake. Dig in!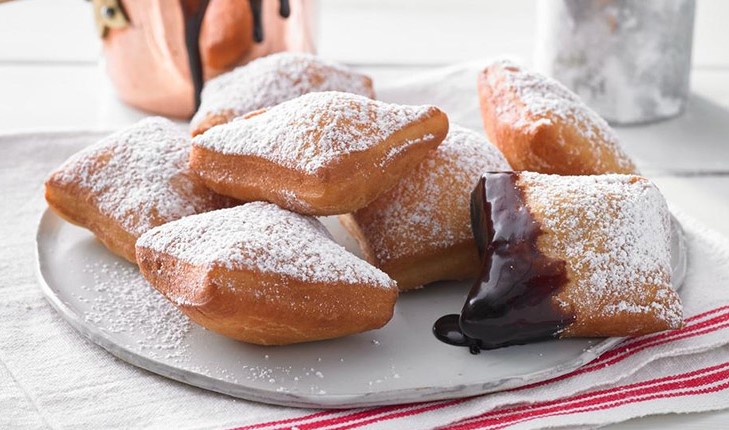 Prep Time:

30 min

Cook Time:

2 hours, 15 min

Total Time:

2 hours, 45 min

Makes:

6 servings
Big-Easy Beignets
Ingredients
1 1⁄2 cup Warm water (105° to 115°), divided

1⁄2 cup Granulated sugar, divided

1 (1/4 oz.) envelope Active dry yeast

1⁄4 cup Trans fat-free soybean oil-based shortening

1 teaspoon Salt

1 cup Evaporated milk

2 Large eggs, beaten

7 1⁄2 cups All-purpose flour

6 cups Soybean oil (for deep frying)

3 cups Powdered sugar, sifted
Instructions for Big-Easy Beignets
Combine a ½ cup of warm water (between 105°F to 115°F) and 1 teaspoon of granulated sugar in a small bowl. Sprinkle with yeast; let stand for 5 minutes.
Meanwhile, microwave the remaining 1 cup of water in a microwave-safe bowl for 1 to 2 minutes until boiling. Combine shortening, remaining sugar and salt in a large bowl. Add hot water and evaporated milk; beat with an electric mixer on medium speed until combined. Stir in yeast mixture and eggs.
Reduce the mixer speed to low; gradually add flour, mixing until dough forms a ball. Transfer to a lightly greased bowl and flip to grease top. Cover and chill for 2 to 24 hours.
Turn the dough out onto a floured surface; roll to ¼-inch thickness. Cut the dough into 2-inch squares.
Preheat soybean oil to 375°F in a heavy frying pan or small deep fryer.
Fry the beignets in batches for about 1 minute on each side. Repeat with the remaining dough squares. Drain on paper towels. Dust immediately with powdered sugar.