Soy Desserts Recipes
Can a sweet tooth and soy nutrition co-exist? These soy desserts recipes prove it. You'll taste that heart healthy soybean oil is the perfect frying oil for donuts or a delicious icing. Or that Tofu is a good source of protein to add to baked goods or a delectable cheesecake. Dig in!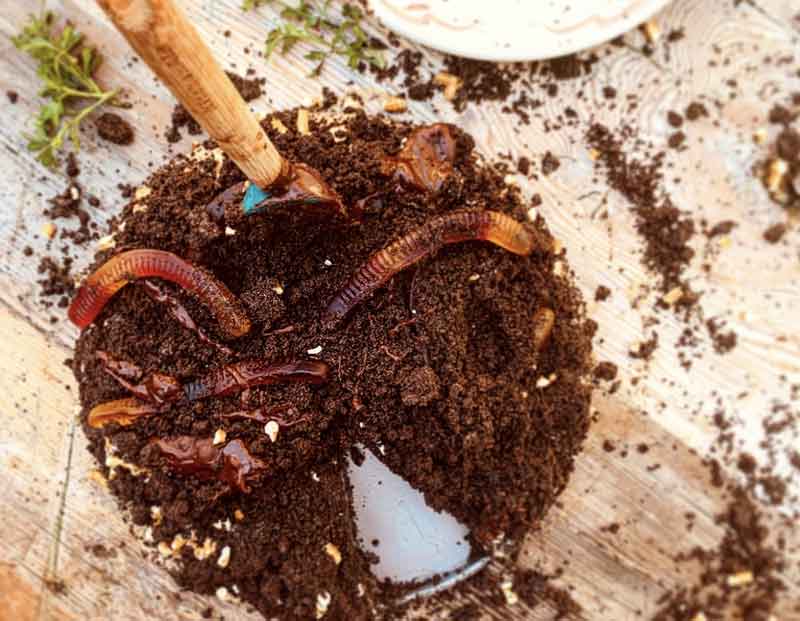 Prep Time:

10 minutes

Cook Time:

5 minutes (for the chocolate sauce)

Total Time:

6 hours 15 minutes (6 hours chilling in freezer, only 15 minutes hands on)

Makes:

10-12 servings
No Bake Mud Pie
Ingredients
¼ cup soybean oil

9 oz. organic chocolate wafer cookies

½ cup brown sugar

About 6 cups coffee ice cream, softened

3 ounces pretzels

5 ounces organic chocolate wafer cookies

2 tablespoons spent coffee (old grounds)

8-10 gummy worms (plus more because the kids will steal some as you work)

1 ½ cups dark chocolate morsels

2 cups heavy cream

2 tablespoons leftover coffee

Mint leaves (optional, chopped and sprinkled on top like grass)
Instructions for No Bake Mud Pie
Let's start with the crust. Toss the soybean oil, wafer cookies, and brown sugar in a food processor and grind it all up. Next, grab a spring form pan. Press the crust into the pan, completely covering the bottom and going up about 2 inches on the sides.


Soften your ice cream in the microwave if it's still too stiff. Pour the ice cream into your crust and smooth it out, be careful not to disturb the crust. Place the pie into the freezer and chill until firm, about 4-6 hours.


Before serving, we need to whip up the crumble topping and chocolate sauce, both can be made ahead of time.


For the crumble topping, grab your food processor again. Blitz together the pretzels, wafer cookies, and spent coffee. Set this aside, along with the worms, for topping your cake before serving.


For the chocolate sauce, place a small saucepan over low heat. Slowly melt together the dark chocolate morsels, heavy cream, and coffee. It's done when it's velvety smooth. This can be held warm or gently reheated before pouring over pie.


When you're ready to eat, grab the pie from the freezer. Sprinkle the crumble over the top. Add gummy worms and get creative with them. Cut some in half so it looks like they're crawling out of the cake. Scatter the mint, if you're using it. Unhinge the pan and remove the ring from the pie. Place a slice on a plate and drizzle with the warm chocolate sauce. Gross and yum!
Notes:
You could also make individual mud pies in little jars using the same steps. The chill time in step 2 is reduced to about 1 hour. Great for kids!