Soy Desserts Recipes
Can a sweet tooth and soy nutrition co-exist? These soy desserts recipes prove it. You'll taste that heart healthy soybean oil is the perfect frying oil for donuts or a delicious icing. Or that Tofu is a good source of protein to add to baked goods or a delectable cheesecake. Dig in!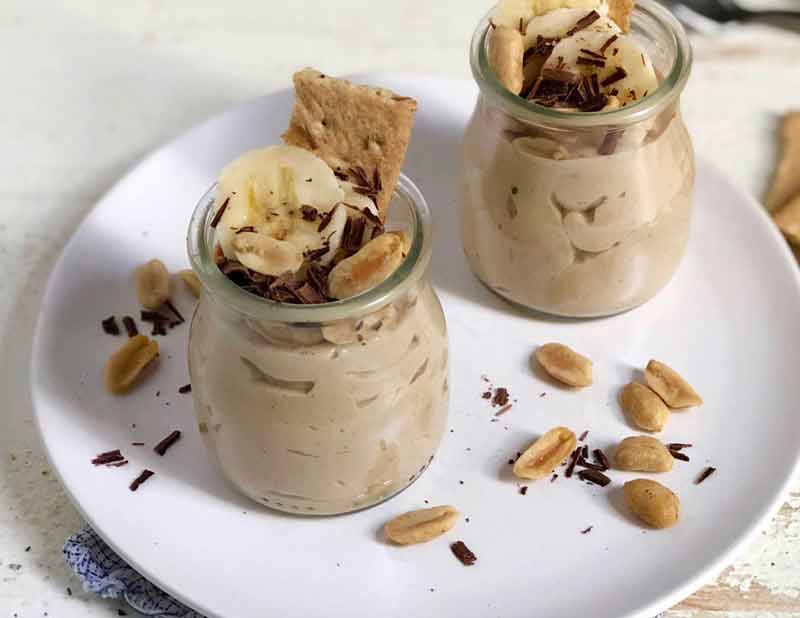 Prep Time:

40 min

Cook Time:

0 min

Total Time:

40 min

Makes:

5
Soynut Butter Banana Pudding Parfaits
Ingredients
16 ounces silken tofu

⅓ cup creamy, no-sugar-added soynut butter (or peanut butter)

⅓ cup packed brown sugar

¼ teaspoon cinnamon

1 to 2 bananas
Instructions for Soynut Butter Banana Pudding Parfaits
Put the tofu, soynut butter, brown sugar, and cinnamon into the bowl of a food processor.
Run until very creamy and smooth with no obvious flecks of tofu. Transfer to 5 small dishes and refrigerate for 30 minutes.

Top with sliced banana and any additional toppings.

Makes 5 servings.

Optional toppings: crumbled graham crackers, chocolate shavings, mini chocolate chips, chopped peanuts
Notes:
Homemade pudding doesn't get much easier than this! Blend all the ingredients in a food processor and you're done. Finish with sliced banana and any favorite toppings, from crumbled graham crackers to mini chocolate chips.