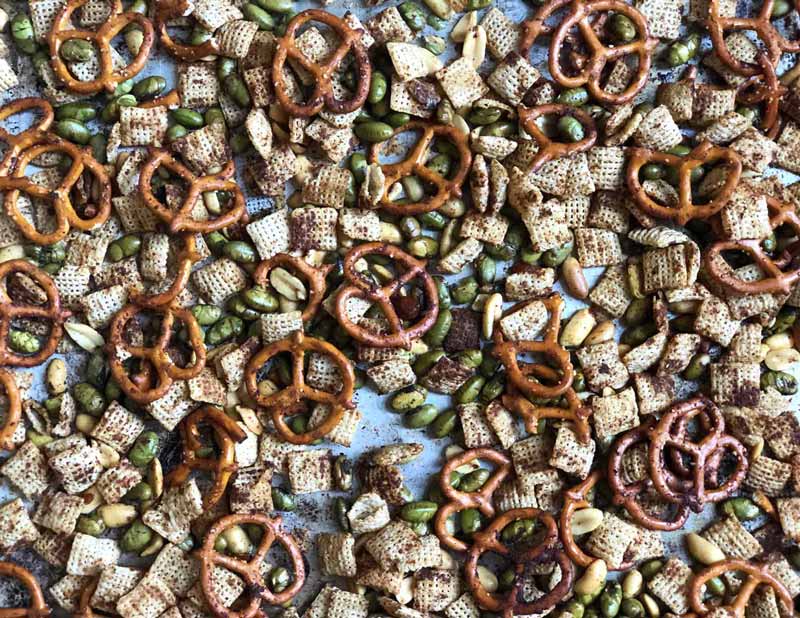 Prep Time:

15 min

Cook Time:

30 min

Total Time:

45 min

Makes:

17 half-cup
Asian-Style Chex Party Mix
Ingredients
3 1/2 cups Chex rice cereal

2 ½ cups small pretzels or pretzel sticks

1 cup roasted, salted edamame

½ cup roasted, salted peanuts

¼ cup soybean oil

2 teaspoons sriracha

2 teaspoons low-sodium soy sauce

2 teaspoons Chinese five spice powder

1 1/2 teaspoons garlic powder
Instructions for Asian-Style Chex Party Mix
Preheat oven to 275 degrees.

In a large bowl, toss together the Chex, pretzels, edamame, and peanuts.

In a small bowl, whisk together the soybean oil, sriracha, soy sauce, Chinese five spice powder, and garlic powder.

Pour the liquid over the cereal and toss until thoroughly coated. Spread on a large baking sheet and bake for 30 minutes.

Let cool and store in an airtight container.

Makes about 17 half-cup servings.
Notes:
This old-school party mix has a flavorful twist thanks to a combination of Chinese five spice powder, soy sauce, and sriracha (which adds a kick of heat). Make a batch to keep in a sealed jar or stow half-cup portions in small wax paper bags for grab-and-go snacks.