Soy, a well known food throughout the world, is a versatile ingredient that is ideal in a variety of delicious and easy to make recipes. From flavorful sides to decadent desserts, discover the joy of cooking with soy!
Soy Delish Recipe Contest Winners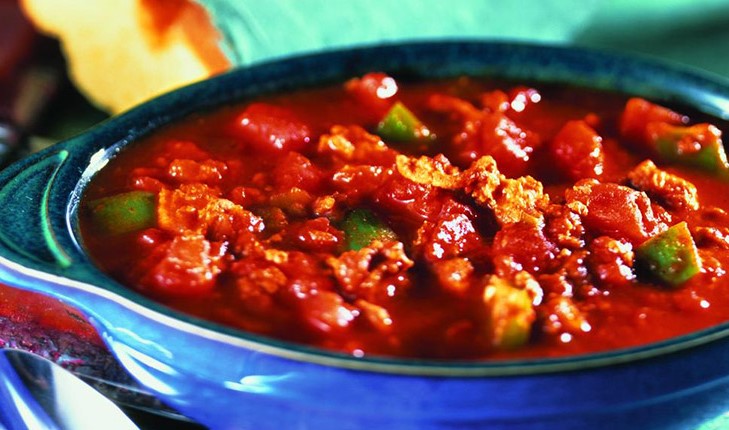 Prep Time:

15 min

Cook Time:

1 hour

Total Time:

1 hour, 15 min

Makes:

24 servings
Soy Turkey Chili Recipe
Ingredients
3 cups Boiling water

2 cups Texturized soy protein (TSP)

2 pounds Ground turkey breast

3 cups Onions, chopped

3 cups Green peppers, chopped

1 tablespoon Garlic, minced

1 tablespoon Soybean oil (vegetable oil)

10 ounces Canned diced tomatoes, including liquid

1 1⁄2 quart Canned tomato sauce

4 ounces Canned green chilies, diced (1/2 cup)

3⁄10 cups Chili powder

2 teaspoons Salt

1 tablespoon Jalapeno peppers, minced

3 quarts Water
Instructions for Soy Turkey Chili Recipe
In a large bowl, pour boiling water over soy protein.
In a 14-quart pot, sauté turkey, onions, peppers and garlic in oil over medium high heat until turkey is no longer pink.
Add rehydrated soy protein and remaining ingredients. Bring to a boil; reduce heat and simmer uncovered for 45 minutes.
Serve with assorted condiments such as shredded lowfat Cheddar cheese, yogurt, sour cream or minced onion. Makes 24 servings.
Expert Recommended Recipes
More Recipes